About Anjani
I Came To Love, dropping in May 2014, is the new release from singer-songwriter Anjani Thomas. Recorded in several settings over six years, this travelogue of the heart mirrors a life rich in feeling, wisdom and beauty. Three new songs co-written with Leonard Cohen affirm the evolution of their creative partnership since their last praised collaboration, Blue Alert. But perhaps the greatest revelation here is how fully Anjani has come into her own as a lyricist capable of translating formless emotion into song.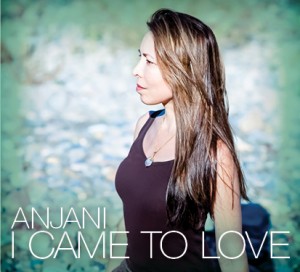 Anjani's musical journey began at the age of four when she first picked up the ukulele at her childhood home in Honolulu, Hawaii. She studied voice, guitar and piano, before a desire for new adventures brought her to New York City.  Once there, a friendship with renowned music producer John Lissauer lead to her first gig with Leonard Cohen—singing back up vocals on his original version of "Hallelujah."
Neither one knew at the time how that meeting would change the course of both their lives. Anjani went on to sing and play keyboards on Cohen's 1984-85 Various Positions World Tour. After subsequent vocal work on his records, I'm Your Man, The Future and Dear Heather, their musical vision culminated in the release of Blue Alert. As Anjani recalls, "One day we were going through a box of Leonard's old journals. They weren't diary-type entries of one's activities or memoirs, but pages of lyrics to songs he had since recorded, sketches and watercolors, and scribbles—sometimes only a line or two—but they were such beautiful bits and pieces, I suggested that he finish them."
The lyrics Cohen completed became fully formed gems when set to Anjani's music. This time it was her voice front and center with minimal instrumentation, showcasing her impeccable tone, phrasing and interpretive power. One of the first artists to hear the record was Lou Reed, who clasped Anjani's hands and exclaimed, "Do you know what you've done? You've written a waltz, and nobody writes waltzes anymore, but "Thanks For The Dance" is an instant classic!"
Prior to her work with Cohen, Anjani released two indie records of her own, a self-titled debut in 2000 and The Sacred Names in 2001. A trademark of her sound—whether referencing jazz, folk, country, or Brazilian rhythms—is the ease with which she creates intimacy in the core of your heart, using just voice and piano. Cohen wrote a poem that begins with the line, "I'm always thinking of a song for Anjani to sing." I Came To Love gives us ten new ways to hear her do that.