An Education in Food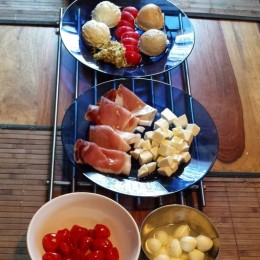 i have never been to a place where people are so knowledgable about their food. We were inland at a restaurant that is famous for serving mussels from a fjord nearby. but when i asked about the oysters:
"oh no, you must eat those no more than a ten minutes walk from the sea..any more than that is too far away."
well, what about clams?
"clams? those white things? oh no, this is not the place for those."
they are patiently trying to educate ME–the girl who grew up in HAWAII eating seafood–about the finer points of it.
you eat seafood on the Istrian coast, which is where you get your olive oil. Go inland for beef and pumpkin seed oil, and to a certain island for lamb (yes, this requires a boat , but luckily many friends have boats here) and the discussion of wines+regions could take up a whole meal or two.
This is what Tomislav threw together for lunch in a ten minutes. those are ice-cream scoops of tuna pate (never heard of it before, now a convert), bakalar –white fish pate–so good i had to stop myself from taking it all, and sir– a fresh, cottage cheese style of cow's milk cheese.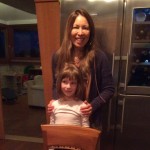 (Tom's wife Irene says he's a much better cook that she is…and the Turkey Schnitzel he prepared was outstanding. but the lamb shank with new potatoes that she popped in the oven after bathing it in olive oil and some sea salt was sooo good).
And then Irene taught me to make Strukli (strudel)… and Pia helped also!