CD Release and Other Impossible Things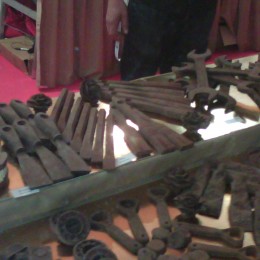 I was walking around a Croatian spring festival when I spotted this display of rusty old tools for sale, and thought, "Who actually buys this stuff?" Then I got a little closer and realized everything was made out of CHOCOLATE rolled in cocoa powder! So I bought a tiny hammer and it was so tasty I ate a putty knife too. How often do we walk around seeing  illusion as reality, when the truth is so far removed from it?
I know y'all are wondering what that has to do with the previously announced cd release? Truth is, I've been holed up in a tiny fishing village on the coast of Istria, and I'm sorry but I haven't felt an iota of desire to blog about it or get about opening a twitter account or finding new ways to promote the record via social media or whatever they say musicians must do to stay connected and relevant these days. Furthermore, I regret that I gave my word on a May release date and that is utter crap now. Anyone who knows me will vouch that I'm a stickler for details and deadlines, but this record has proved to be an elusive butterfly in more ways than one.
Just so you know, there is no record company putting this out–just me–and that's why even though you all made your preference for hard copies very clear, it will appear only in digital format (lyrics and credits will be posted here) on cdbaby/itunes at first. Why?  Because the more I got into it, the more I faced a multitude of logistical/financial obstacles in manufacturing hardcopies and connecting with distribution houses; and I need more time to figure it out. If you have any ideas, I'm all for considering them…in the meantime, download it is.
That said, little movements ARE being made on the record…like Scott Ambush just finished the remixing the title track today and now I LOVE IT. And I found Alan Silverman to master the record next week, so it's in safe hands. There are a couple of interviews scheduled for early July, so it's safe to say the record release WILL ABSOLUTELY POSITIVELY coincide with that. Thanks beyond thanks for your noteworthy patience.
Meanwhile, life is leading me through some big and delightfully surprising changes, including fulfilling a long-squelched desire of mine to explore living in Europe.  In June I'm heading to a Viniyoga Retreat run by my dear friend, Mirka Scalco Kraftsow in Assisi, Italy, but Croatia is already so ingrained in my heart I don't know how I'll pry myself away…if you were here, we'd sit with some ice cream cones watching the endless sunset, and you would understand how easily one can melt into the scene. xoA