Random Notes on Croatia…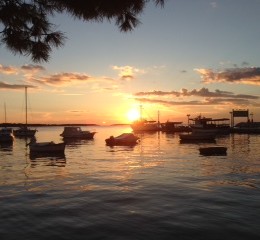 I don't think pecans exist in Croatia. Ditto, macadamia nuts and brazil nuts.
Have not seen a child daycare center in Istria yet, or a storage facility (people just live with less) or a laundromat.
For some reason, in the former Yugoslavia, water heaters were mounted in a bathroom, either hanging above the toilet (weird) or in the corner of your shower (huh?),  completely restricting freedom of movement when bathing. I really drove Zeljko crazy  by eliminating a small guest bathroom he had planned in my house, and turning it into a water heater+closet space…but now he gets it.
Hardly anyone has screens on the windows and they don't seem to mind the bugs who wander in. I have been bitten A LOT by mosquitos and small flying black insects I've never seen before. Needless to say, I CANNOT WAIT for my screens to arrive.
There's all kinds of mysterious cheese products in tubs and wrappers that don't exactly convey what they are. I tried 3 times to buy what looked like cottage cheese but wasn't, before I learned that's about the only cheese product they don't have here.
The wine section in a supermarket is often surprisingly small, considering how many wineries there are. It's because everyone makes their own or knows someone who does. Or, you just go to the corner store and take an empty plastic water bottle and fill it up from a wine barrel with a spigot attached…and it's pretty good.
In my town there are no streetlights or a police station. If you have a problem, the policeman comes every Monday and Thursday, and he walks around the piazza from 11-3, so eventually you will run into him.
People are self-policing here…no rash of lawsuits like there are in the US or UK…just watch where you're going and what you do.
This summer, with maybe 30,000 tourists passing through, there haven't been any serious problems..just too much rain to make it a successful summer for vendors.
I can walk the streets at any time of day and feel perfectly safe. That is PRICELESS peace of mind to a former big city living woman.
Eggs are sold 10 to a carton, not 12.
People do not eat on the run. They always sit and take time for a meal…except for an ice cream stroll on the promenade.
Just about everyone I've met has two or three properties…one here on the coast, and one either in wine country for growing food, or in the city, maybe one they rent out too. Croats are very savvy about real estate.
Just about everyone in Istria seems to have a boat, or access to one.
Right now it's the season for branzino (sea bass) and orada…a delicious white fish kind of like red snapper. They know all about seafood but they don't know what pie is here…I find that very sad.
99.99999 percent of the cars here are manual transmission. I am dragging my feet buying a car because I haven't driven a standard in 20 years and I'm hesitant to start and stop uphill with cars following close behind. It takes SIX MONTHS to complete the drivers education course here.
People will share their favorite places to go, to eat with anyone who asks.  No one can believe a person from Hawaii–PARADISE–has chosen to live here because she thinks it's like the good old days of unspoiled Hawaii in the 60s. They just marvel at the thought…but they don't believe me.
I think I've found out why people are so happy here: EVERYONE SINGS. Both young and old know so many songs…singing is a national pastime. Many play the accordion (which they call a harmonica) and guitar, but often they sing accapella in sweet harmonies at weddings, parties, restaurants, on the piazza, anywhere. And strangers nearby will join in, and from singing just one song together, everyone is now a friend. It always amazes me how they can go for 3-4 hours and never repeat a song…all smiling, singing, swaying and dancing to the music they weave. It's a gorgeous, sweet experience.
And my final observation for now, if you have to buy a toaster, get a Moulinex from France. Beats Krups, Cuisinart, Russell Hobbs, Braun and every other cheap or $$$$ toaster I've bought in the US. That said, no one I know here owns a toaster. They just eat fresh bread with oil. I can't even order toast at Marina, my favorite breakfast spot. So this to me is the second travesty, after the lack of pie.
more to come,
xoxA