Music
I Came to Love (2014)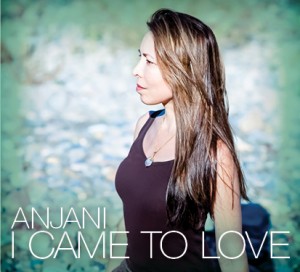 I Came To Love, a new release from Anjani Thomas, heralds the next chapter for the accomplished singer-songwriter.  This ten-song collection chronicles the path of the heart through passion, jeopardy, and ultimately love, all revealed through Anjani's fluid and mesmerizing sound.
Picking up where the critically acclaimed Blue Alert left off, Anjani sets the tone with the album's title track: i came to love as a novice / with an aim to learn… now I love as a woman / sure of what she sings. With vocal nuances and impeccable phrasing, Anjani establishes a startlingly intimate connection with the listener: she's not singing to you, she is touching what's inside of you.
Anjani's creative partnerships have always been unerringly honed, and it is no exception with the assembly of pros on this recording. Jerry Marotta (Peter Gabriel), acts as producer and percussionist on six tracks, building potent rhythms on Weather A Storm With You, and the mysteriously moody Standing On The Stairs.  Toronto producers Rob Piltch and Jonathan Goldsmith sync a hypnotic trance groove on Holy Ground: my lover stands on holy ground/in a scarred and barren field/where my weakness is revealed/he holds space for me to heal.
Love In Between features country music giant Larry Campbell (Bob Dylan, Levon Helm) on guitars and fiddle; while renowned flamenco guitarist Pavlo takes a passionate solo turn on Love Be A River.  For her longtime fans, Anjani reprises her celebrated musical collaboration with the legendary Leonard Cohen on three new tracks, including Song To Make Me Still, a wistful poem sung to meditative piano accompaniment.
One part biography, one part love letter, one part statement album, I Came to Love is a rich and varied musical journey.  "It took much longer than I expected to finish this record," Anjani says, because every time I thought it was done, something tipped the balance, which compelled me to keep working until it felt complete again. Leonard told me when we started writing together in 2005 that part of the creative process is allowing for that sense of 'Ah, now it's right."  It can take time for the weak spots to surface; and being patient yielded songs as nurturing to write as they are satisfying to sing. For me, it was worth the wait."
I Came To Love is now available for download as MP3, MP3 320, or full cd quality FLAC format.
More about FLAC
Not all music players support .flac, but there are free players you can download like VLC or Foobar for Apple users. Or download the music in .flac format, then use Audacity to convert files to mp3 for Apple devices such as the iPod, iPad or iPhone.
Blue Alert (2006)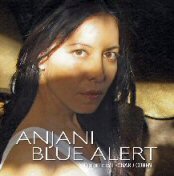 Written and arranged by Anjani and Leonard Cohen and produced by Cohen, Blue Alert melds haunting melodies with exquisite lyrical imagery leading us gently along the erotic landscape with stories of desire and despair.
Listen to songs at Anjani's myspace.com.
Blue Alert is a deceptively simple collection of bittersweet songs cut from the cloth of love, loss and redemption. This collaboration between Anjani and Leonard Cohen is calm and controlled but challenging ideas bristle and flay beneath the polished surface.
The poetic voice informing the singer breathes unselfconsciously into Anjani's vocals, and rather than being distracted by the beauty of her voice, the beauty becomes a safe passage, in. Listening to Blue Alert results in the record revealing itself differently with every play. Ephemeral and relaxing, the sound experience could stay there if Anjani was not at the top of her interpretive game. She offers up lines that alternately cajole and coerce the listener into other realms throughout the disc. Leading the ear and heart to remember things unspoken, Anjani is seer and interpreter of the insistent shapes beyond the words.
Initially inspired by a newly minted poem of Cohen's titled Blue Alert, a further mining of his journals transformed bits and pieces of lyrics into a full-blown album, with Anjani writing, arranging and performing all of the music. At first, the simplicity of her arrangements may seem sparse. A listener expects more guitar, drums and perhaps strings to anchor his preconceptions of music to. In the early stages of recording this project, Anjani may have agreed. "Leonard gave me free reign to try all kinds of ideas on all the songs. But his lyrics give the listener so much to process that most of the additional instrumentation detracted from the message. He taught me to trust in the simplicity, so I focused on creating a pure vessel for the voice."
This marrying of Cohen's minimalism with Anjani's musicality has led to a set of contemporary standards that sound like classic songs you think you should know. Never underestimating their listener's intelligence and aesthetic perception, Anjani and Cohen have sculpted a record for the ages that – like a good wine – will grow more complex and subtle with the passage of time.
Dear Heather (2004)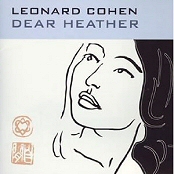 "On Leonard Cohen's latest effort, the sound of his gravelly baritone speaks as much as his poems. Villanelle for Our Time features him reciting beautiful lyrics set against barely audible keys, a quietly strummed stand-up bass and lightly brushed drums. Anjani Thomas accompanies him on eight of the 12 songs, bringing a perfect balance to his rumbles with her light, soft voice. The effect of their duet skirts religious territory in The Faith, where an oud is the only thing that stops it from becoming a hymn. Though intensely lonely in its stark acoustics, Dear Heather is warm enough to feel as if it could commiserate."
– Paper Magazine
"The key line in On That Day, Cohen's song about 9/11, is 'I wouldn't know'. This also serves as the theme of the album. Cohen merely observes; he doesn't interpret. Years living in a Buddhist monastery probably do that to you. Maybe reaching the age of 70 does too. Despite his age, there is more than a hint that Cohen has been tuning in to urban stations: the way he talks round the beat, steps back to let the female singers handle the chorus; the sexual thrust of his lyrics on Because Of (well, that's not new); the lovely soul chord changes on The Letters (which just begs to be covered by Jill Scott). Throw in waltzes, cool jazz, quasi-hymns, slinky beats and some country, and this might be the man's most musically diverse album. It's up there with his best, too."
– ME, Sunday London Times
The Sacred Names (2001)
lyrics | amazon.com | cdbaby.com | itunes.com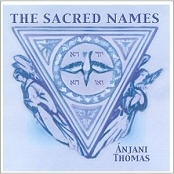 "With its sense of heartfelt compassion and all-embracing reverence, Anjani's voice is like hearing the music inside the temple of the heart. It is as inspiring as it is inspired… Anjani delivers a genuine performance in the flame of the human soul."
– Dr. J.J. Hurtak
Written, arranged and produced by Anjani, The Sacred Names illuminates the Hebrew, Aramaic and Greek names of God in ten songs of praise. Anjani's celestial contralto is paired with classical guitar on several tracks, including the vocal tour de force, Kyrie.
Anjani (2000)
amazon.com | cdbaby.com | itunes.com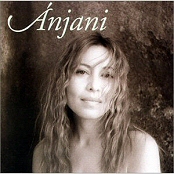 Anjani has been called a singer's singer, and her self-penned CD is an exemplary song-writer's debut. No hard grooves here, just a long, cool drink at the well of life. Ki ho'alu master Ozzie Kotani, creates slack key guitar magic on Kanaloa, a duet with Henry Kapono and Anjani. Other guest artists include Osamu Kitajima, bassist Scott Ambush (Spyro Gyra), and Grammy winner Frank Gambale on classical guitar.
Okinawa Time (1989)
Osamu Kitajima's signature sound blends synthesizers with traditional Japanese instruments such as the koto and biwa. Inspired by the music of Okinawa's renowned Rinken Band, Osamu sought to create a contemporary version of their music. But first, he had to find an artist who could emulate singer Tomoko Teruya's remarkable vocals. After an extensive search he discovered Anjani, whose Okinawan grandmother always kept the radio tuned to Asian folk music. Once Anjani wrote English lyrics to Osamu's arrangements that captured the spirit of Rinken Band, they were on the way to creating a sonic hybrid of East and West, with elements of jazz, New Age, world and folk music. Okinawa Time features guest appearances by Rinken, Tomoko Teruya, Hiromitsu Nishikawa (Japan's preeminent traditional percussionist) and world renown concert shakuhachi artist, Masakazu Yoshizawa.
Leonard Cohen by En Boca De (2011)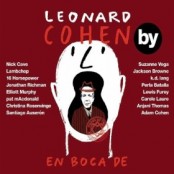 Anjani's live recording of Thanks for the Dance from the album Acordes Con Leonard Cohen appears on this compilation album devoted to the music of Leonard Cohen. Anjani performed the song at Teatre Auditori de Sant Cugar del Vallès, Barcelona on January 13, 2007.